Fish Fry
---
Fish fry during Lent will start Friday February 24, 2023  serving from 11:00 AM to 7:00 PM. Our fish fry runs all year long, not just during lent.
We are NOT serving on Ash Wednesday.
Please be advised we no longer sell fish by the pound please see our menu below.
All take out orders are done in person; we do not take orders over the phone.
Reservations are accepted for parties of 6 or more, your entire party must be present to be seated.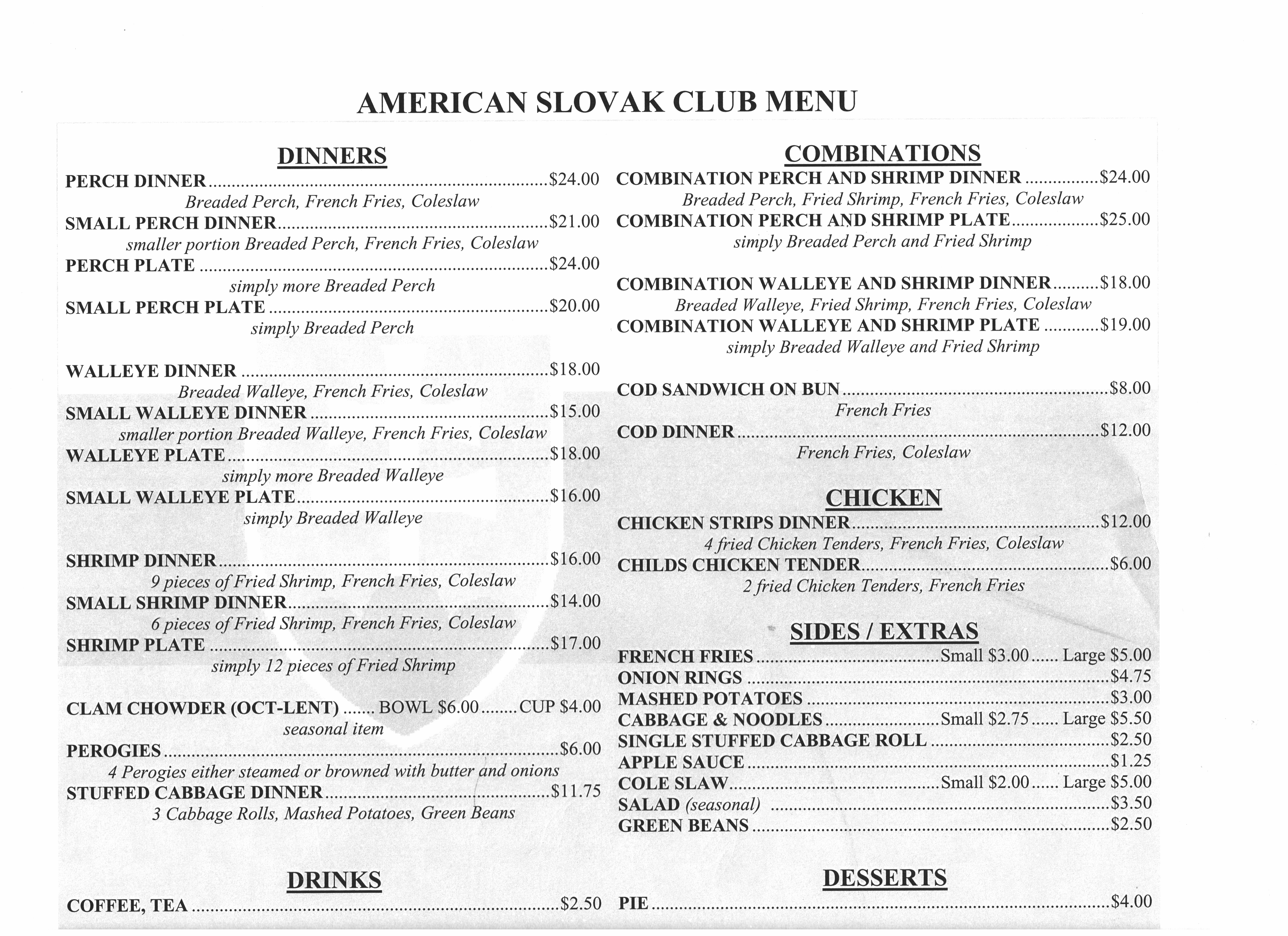 ALL MENU ITEMS ARE WHILE SUPPLIES LAST!
Thank you for your continued support and we hope to see you soon!
The Women of Auxiliary of Slovak Club The American Slovak Club was founded on September 11, 1936. American Slovak Club Women's Auxiliary was formed 54 years ago by a few women of the Slovak decent. The purpose was to help finance the new American Slovak Club being built on Broadway. On November 3, 1956, the new American Slovak Club was officially opened by Governor Frank Lausche. The Auxiliary decided to have Fish Fry Dinners every Friday from 11 to 8. The price was 80¢ a dinner. It included 8 oz. of perch, French fries, and coleslaw. The fresh fish was cleaned and prepared with a special recipe for breading. The coleslaw was freshly chopped, that morning, and a secret sauce used for the dressing. To this day, these recipes are still in use.
At the start, it was a little slow, but steady. There was one waitress and just a few working in the kitchen, but they kept on serving. Today, we have 6 waitresses every Friday and 12 kitchen help. During Lent, we double our staff. We have grown in the amount of people we serve and the menu we offer. Carry outs are available.
We have a backroom available for large families or parties. We are open every Friday, except if Christmas falls on that day.
American Slovak Club – We are known to have the BEST Fish in town AND it's a great place to meet with friends! Come see us.